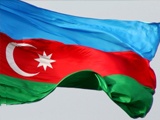 A traditional Friendly Cultures Fair 2011 started in Mexico City. It will last 15 days. The embassy of Azerbaijan in Mexico said that the fair was organized by the Mexico City government for popularization of the cultures of different countries through their diplomatic representations accredited in Mexico. Azerbaijani embassy attends the culture fair under the auspices of Azerbaijani Ministry of Culture and Tourism.
The fair is held at the Paseo de la Reforma Avenue, which is one of the largest and central avenues of Mexico City. Millions of local residents and tourists visit the fair every day in Mexico City which has a population of 30 million.
Azerbaijan displays national souvenirs, carpets, materials about the history, culture, cuisine, music, traditions of Azerbaijan, as well as information about the country, printed and e-materials about the Armenian aggression against Azerbaijan. Visitors receive T-shirts, caps, mugs, wall clocks and other items with the slogans "Karabakh, Azerbaijan," "Azerbaijan - Land of fires" as well as various national sweets.
/
APA
/