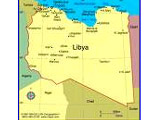 "The heaviest air strike since the beginning of military operations has been launched at Libyan capital Tripoli last night", Azerbaijani Ambassador to Libya Aghasalim Shukurov said. He said Azerbaijani embassy and the mission's staff members didn't suffer during the air strikes.
Explosions were heard everywhere in the city during the NATO air strikes. Ambassador Shukurov said they defend the interests and property of Azerbaijan in Tripoli. Some embassies in Tripoli, which suspended their activity, were plundered by the robbers.
51 foreign diplomatic missions continue their work in Tripoli now. The ambassador said there were no other Azerbaijani citizens except diplomats in Tripoli. Only three Azerbaijanis, who married local citizens, are living there. "We offered them to leave Libya, but they preferred to stay with their families".
Regarding the Azerbaijani companies operating in Libya, Aghasalim Shukurov said their fate is unknown due to the military operations. The ambassador said the Azerbaijani companies were operating there at request of the Libyan government, but now their work remains unfinished. Shukurov said future development of the bilateral relations would be clear only after the military operations.
/
APA
/