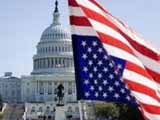 Thousands of American Turks and Azerbaijani Diaspora members are expected to gather at the Times Square in New York to demand "End to Armenian Lies" and to commemorate their momentum, on 30th of April.
"The protest action is annual and seventh in a row", organizers of the action said. The demonstration which is being gathered by Young Turks Organization will start at 13.00 NYC time.
The main goal of the action is to unite and coordinate American Turks and Azeris in their anti-Armenian work and to unite them around joint ideas, say the organizers.
The slogans of the actions will be such as "Don't believe Armenian lies!", "Put an end to the tyranny against humanity", etc.
Unlike previous year, besides New York Azeris and Turks, supporters from Washington DC, Pennsylvania, Boston, New Jersey and Connecticut supporters are also expected to join today's action.
The organizers also believe that their actions create panic among the Armenians, and this makes Turks stronger.
/APA/