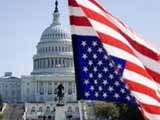 The meeting with the participation of representatives from Azerbaijan and Georgia at George Washington University on April 11 will be closed to the media and public, the organizer of the seminar from the University said.
"This is a closed meeting that is open only to affiliates of George Washington University (students, faculty, etc.)", he said adding that there will be representatives from Tbilisi, Baku, Sukhumi, and Khankendi.
There is no one from Armenia attending. "The meeting is on Georgian-Abkhaz and Nagorno-Karabakh conflict resolution".
Azerbaijani Diaspora members were concerned about the representation of Azerbaijan's occupied town of Khankendi as Stepanakert, but the organizers indicated that they called the town both names.
The organizers also said that the seminar is just "an opportunity to meet some individuals engaged in peace building activities" for the affiliates of the faculty.
/APA/