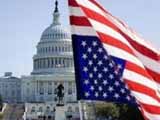 Azerbaijani Diaspora members raised their concerns over the George Washington University conference on South Caucasus conflicts, that will be held next week.
The conference at the University "The South Caucasus: Local Perspectives on Conflict and Conciliation" will feature numerous regional experts including Masis Mayilian, Nagorno-Karabakh Foreign and Security Policy Council representative.
The members of Azerbaijani Diaspora are concerned that representative of a separatist regime on Azerbaijan's occupied territory of Nagorno-Karabakh will talk at the conference along with representatives from Azerbaijan, Armenia and Georgia.
Azerbaijan will be represented by Tabib Huseynov who is a representative of International Crisis Group's Azerbaijan Office. The Diaspora is concerned that representatives from other countries are from national NGOs while Mr. Huseinov is from international NGO.
Besides that the conference calls the occupied Azerbaijani town Stepanakert, instead of Khankendi, said the Diaspora members. Azerbaijani Diaspora invited everyone to participate at the conference and support Azerbaijan's position.
/APA/