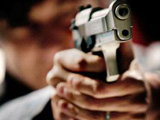 A quarrel between two visitors of a cafe in Moscow turned into brawl on Saturday evening. One of the men opened fire and managed to escape, the law enforcement source told Interfax.
"Arriving on the scene, patrol officers found the wounded in the leg 24-year old citizen of Azerbaijan, as well as a full magazine of the Makarov pistol, four cartridge cases and bullet fragments" - the spokesman said.
According to him, the wounded was hospitalized. Doctors say no life threat exists.
The shooter is in search.
/Vesti.az/