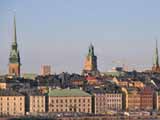 The Congress of Azerbaijanis in Sweden sent a petition to the Swedish parliament in connection with the Day of Genocide of Azerbaijanis, the State Committee for work with Diaspora reported on Friday.
The petition reflects information about the genocide committed by Armenian nationalists against the Azerbaijani people in 1918-1920. The authors stressed that Dashnaks killed tens of thousands of our compatriots within four days in 1918. The petition also stressed that the policy of ethnic cleansing against the Azerbaijani people continued in the Soviet period, which resulted in the departure and murder of hundreds of thousands of Azerbaijanis from the Armenian territory. The authors called on the Riksdag (Swedish Parliament) to keep a minute's silence in memory of victims of genocide in the Swedish Parliament.
The Armenian Dashnaks who seized the power under Stepan Shaumyan's leadership in March 1918 cruelly killed tens of thousands of civilian Azerbaijanis. According to a decree signed in 1998 by Azerbaijani national leader Heydar Aliyev, March 31 is marked as Azerbaijani Genocide Day.
According to the Azerbaijani National Academy of Sciences' History Institute, about 700,000 people were killed on the territory of Azerbaijan on March 24. About 75 Shamakhi, 122 Guba, 115 Zangazur villages were completely destroyed within a few days.
/
Trend
/