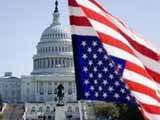 Azerbaijani Society of America submitted a testimony on FY2012 US State Budget hearing to the Congress, the Congress press-service reported.
The text was submitted for consideration during the upcoming hearings on the FY2012 State, Foreign Operations and Related Programs Appropriations Bill in the House Committee of Appropriations, Subcommittee on State, Foreign Operations, and Related Programs.
It was provided by the Azerbaijani Society's Executive officer Javid Huseinov, who specifies in the letter that the society is doing this for ten years now.
Reminding that the entire population of the occupied Nagorno-Karabakh conflict has been displaced by the Armenian forces, Azerbaijani Society says US Congress has been allocating funds to address humanitarian needs of the victims of the Nagorno-Karabakh conflict between Armenia and Azerbaijan.
Since 2005 the funds have been provided only to the Armenian community of Nagorno-Karabakh region, whereas hundreds of thousands of Azerbaijanis expelled from their homes during the conflict were deprived of this assistance.
Azerbaijani society notices that US aid to Nagorno-Karabakh has risen from $3 to 8 million while the real absorption capacity and the needs on the ground have never reached $2 million.
The society notices that the US has always been generous in humanitarian matters and is besides everything, a co-chair of the OSCE Minsk Group, and therefore Azerbaijanis propose that the Congress considers cutting the FY2012 direct budget assistance to the Armenian-occupied Nagorno-Karabakh region of Azerbaijan to the level of demonstrated programmatic capacity and expands the report language on assistance to include over 600,000 Azerbaijani civilians expelled as a result of the Nagorno-Karabakh conflict.
/APA/