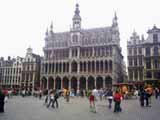 An exhibition of young Azerbaijani artists was opened by the Dirchalish Social and Psychological Rehabilitation Centre for Youth at the Brenart Art Gallery in Brussels on Friday, Azerbaijani Embassy in Belgium said.
The exhibition, held on the occasion of Novruz holiday, was organized by the Azerbaijani Embassy in Brussels.
Opening the event, ambassador Emin Eyubov delivered a welcoming speech, addressed to young artists, and informed the guests about Novruz holiday, about the fact that this holiday is declared by the UN as international day, as well as stressed the important role of the holiday in the Azerbaijani people's culture and history.
Eyubov highlighted charitable purpose of the exhibition and said that according to the organizers' decision part of the profits from the sale of paintings will be donated to fund of assistance to quake-hit people in Japan.
Later the Belgian Senate Honorary Chairman Anne-Marie Lizin addressed the event, congratulating all Azerbaijani people on the occasion of Novruz. She stressed the Azerbaijani people's talent, demonstrated by bright works of young artists who attended the exhibition.
Attended the opening ceremony the Japanese ambassador Jun Yokota conveyed sincere congratulations to the Azerbaijani people on the occasion of Novruz, and expressed deep gratitude to the organizers and young artists for assistance of quake-hit people in Japan.
After the official part the guests were invited to a celebratory table, where the main dishes of Azerbaijani cuisine, such as pilau and various sweets were presented. During the event, a documentary was demonstrated on Azerbaijani culture and tourism.
The event was attended by representatives of the Belgian public, diplomats, students and the Azerbaijani Diaspora.
/
Trend
/