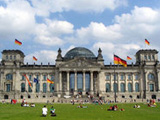 Protest action was held in Germany's Magdeburg city, in connection with the killing of 9-year-old Azerbaijani child Fariz Badalov by Armenian sniper.
The action was held on the initiative of Azerbaijani-German Cultural Society of Saxony-Anhalt and Coordination Center of Azerbaijanis in Germany, the State Committee on Diaspora's press service reported.
Slogans on stopping the Armenian vandalisms committed against Azerbaijani nation were sounded in the action held in the center of Magdeburg city – Altmarkt square.
German society was informed about the occupation of Azerbaijani lands by Armenians, killing of Azerbaijani civilians as a result of constant violation of the ceasefire since 1994. 
/APA/