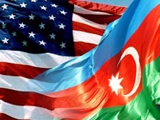 Dozens of US Political figures, Congressional leaders and Washington DC based diplomats gathered at the Congressional gala dinner hosted by Azerbaijani Diaspora in Washington DC.
"As part of its Congressional outreach efforts, the US Azeris Network, which is the largest and first Azerbaijani-American national grassroots advocacy organization, has wrapped up a gala dinner with current and former members of the US Congress and Cabinet officials, honoring current and former Speakers of the House of Representatives of the US Congress", says the USAN's press-release.
The dinner with USAN co-founders and activists was attended by: current Speaker John Boehner (R-OH), former Speaker Dennis Hastert (R-IL), former Speaker Tom Foley (D-WA), former Minority Leader Dick Gephardt (D-MO), former Minority Leader Bob Michel (R-IL), former Speaker-elect Bob Livingston (R-LA), current Secretary of Transportation Ray LaHood, former Secretary of Transportation Norman Mineta, Senator Bob Manchin (R-WV), Congressman Dan Burton (R-IN), Congressman Phil Gingrey (R-GA), Congressman Steve Cohen (D-TN), former Congressman Jim Slattery (D-KS), former Congresswoman and Ambassador Connie Morella, Ambassadors of France, Japan, Germany and other nations, as well as a Turkish delegation.
The individual members of Congress, including Speaker Boehner, Sen. Manchin, Con. Cohen, Con. Burton, Con. Gingrey, and others, were familiarized with the work and achievements of the US Azeris Network (USAN), which includes greater political education and awareness by the Azerbaijani-American community, greater contacts with the federal and state elected officials as well as increasing media exposure through the USAN action web system, as well as the occupation by Armenia of the Nagorno-Karabakh region of Azerbaijan.
Among the most recent achievements of the USAN, the historic, first-ever resolution about Azerbaijani-Americans, the HR 220 in the Texas House of Representatives (Parliament), was shown to the Congressional leaders.
"The USAN will continue its Congressional outreach and education activities in the coming months", the organizers assures.
/APA/