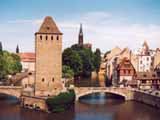 Azerbaijani diaspora in France held a protest action in front of the building of the Council of Europe in Strasbourg in connection with the murder of a 9-year-old resident of the Orta Garvand village in the Agdam region by the Armenian Armed Forces sniper, Azerbaijani State Committee on Diaspora reported.
The rally organized by Strasbourg Home of Azerbaijan society voiced slogans "End the Armenian occupation!" "Let murderers of children be damned", "End the genocide!".
In addition to photos of Fariz Badalov, the demonstrators were holding photos founders and current followers of the Armenian fascism - Zori Balayan, Robert Kocharyan and Serzh Sargsyan.
The demonstrators distributed a statement prepared in connection with the murder of nine-year old Fariz Badalov.
The statement and photo of Fariz Badalov were sent to the PACE President Mevlut Cavusoglu, Secretary General of Council of Europe, Commissioner for Human Rights of Council of Europe, Chairman of the Commission on Family and Children, Chairman of the Committee of Ministers.
/
Trend
/