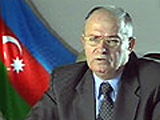 Azerbaijani Ambassador to Uzbekistan Namig Abbasov has met with representatives of the Azerbaijani diaspora in the country, Ca-NEWS reported.
The ambassador stressed the importance of solidarity among Azerbaijanis living abroad. Abbasov met with leaders of the Heydar Aliyev Cultural Center in Tashkent.
The ambassador emphasized the role of the diaspora in informing the world community about Azerbaijan.
Abbasov also spoke about the Azerbaijani initiative on peaceful settlement of the Nagorno-Karabakh conflict, as well as the double standards that hamper the peace negotiations.
/
Trend
/