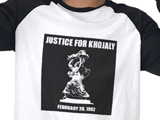 In view of the upcoming 19th anniversary of Khojaly massacre, the Azerbaijani Diaspora in the US introduced the first custom designed apparel featuring the "Justice for Khojaly" campaign logo, APA's Washington DC correspondent reports.
Justice for Khojaly T Shirt in various styles, sizes and pricing (average price 20-30 USD) is available for sale to public via AAC Zazzle webstore directly at: http://www.zazzle.com/justice_for_khojaly_tshirt-235798957191882820.
This logo was introduced to increase awareness of the 1992 Khojaly massacre, a never-investigated genocidal killing of 613 Azerbaijani civilians including 106 women and 83 children by Armenian forces in the course of the Nagorno-Karabakh War.
"Any commission funds raised from sale of the "Justice for Khojaly" apparel through Zazzle store will be spent in full towards organizing Khojaly awareness events during the annual Khojaly Memorial Week across North America", according to the Azeri Diaspora.
/
APA
/