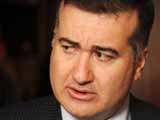 The lack of progress on Nagorno-Karabakh has remained the biggest problem in the South Caucasus region for 20 years, Azerbaijan's Consul General in Los Angeles Elin Suleimanov said. He was speaking at "The U.S. strategy towards the South Caucasus and the Caspian Sea" conference at the Center for Strategic and International Studies in Washington.
"Armenia is a negotiating party on this issue, but the reality is that this conflict remains the biggest obstacle to security, economic development and institutional reforms in our region," Suleymanov said.
According to Suleymanov, the problem of Nagorno-Karabakh is not an issue which can't be solved and no one can argue with the basic position that the parties should move forward.
He recalled that in 1999 Baku and Yerevan came close to an agreement at the OSCE summit in Istanbul, but failed to reach the real progress then.
"We had one more chance in Astana in 2010, but it was not used. This is disappointing, because we will continue to persist different ideas about what is happening without solving this conflict," Suleymanov underscored.
Russia, according to Consul General, has made some interesting steps to advance the peace process, although they are still ineffective.
"One of the reasons why this problem is not solved that there is no common political will to settle this problem."
According to Suleymanov, Armenia's integration into the region could occur with the participation of Azerbaijan and Turkey in an appropriate change of the current situation.
Suleymanov regarded relations between Baku and Tbilisi, which "could become a model of cooperation based solely on common interests" among other achievements of Azerbaijan's foreign policy for the past 20 years.
According to Suleymanov, Azerbaijan's relations with other neighbours have reached a certain balanced level.
"The peculiarity of Azerbaijan's foreign policy is that decisions are taken by Azerbaijan on the basis of national interests of Azerbaijan and its people and this is very significant achievement," he said.
The Azerbaijani representative said that balance had been achieved in his country's relations with Russia.
"This is the necessary partner in the Caucasus, but it is not only an issue of partnership, but also of responsibility in maintaining peace and security," he said. "The demarcation of our borders is one of examples of how to develop our relations with Russia."
/
Trend
/