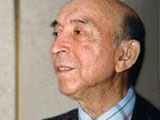 On February 4, 2011, Azerbaijanis around the world will celebrate the 90th birthday of their most famous compatriot in America, the world-renowned mathematician, engineer and computer scientist, creator of Fuzzy Logic, Professor Emeritus of the University of California Berkeley, Dr. Lotfi A. Zadeh.
Lotfi Zadeh was born as Lotfi Aliaskerzade on February 4, 1921 in Baku, the capital of Azerbaijan, to a family of journalist Rahim Aliaskerzade and pediatrician Fania Koriman. In 1931, the family moved to Iran, where Lotfi Zadeh learned Persian and studied at the American Presbyterian School in Tehran.  
After graduating from the University of Tehran with an engineering degree in 1942, he moved to the United States in 1944. Here, Lotfi Zadeh received a Master degree in electrical engineering from the Massachusetts Institute of Technology (MIT) in 1946, and a PhD in electrical engineering from Columbia University in 1949. After graduation, he continued to teach at Columbia University for 10 years, becoming a full professor. In 1959, Dr. Zadeh joined the Department of Electrical Engineering at the University of California Berkeley, and chaired that department from 1963.
In 1965, Dr. Zadeh published his groundbreaking work on fuzzy sets, which laid the foundation of Fuzzy Logic proposed by him eight years later, in 1973. While Zadeh's Fuzzy Logic theory was initially received with skepticism by many of his U.S. colleagues, his research was successfully applied in Japan and some European countries, resulting in a number of scientific and industrial breakthroughs. Today, fuzzy control systems are used in automobiles, air conditioners, CCD cameras, energy-efficient automation, robotics, and in a variety of consumer electronics manufactured in the United States and around the world.
Dr. Zadeh's research on Fuzzy Logic earned him a number of honors and awards, including honorary doctorates from universities in the U.S., Canada, France, Germany, Spain, Poland, Czech Republic and Azerbaijan. He is a member of the National Academy of Engineering and a Foreign Member of the Russian Academy of Natural Sciences; a recipient of the IEEE Education Medal and Medal of Honor, the ASME Medal, the B. Bolzano Medal of the Czech Academy of Sciences, the Kampe de Feriet Medal, the Honda Prize, the AIM Information Science Award, the Memorial Award of the Japan Society for Fuzzy Theory, and numerous other awards.
In December 2007, Lotfi A. Zadeh was a keynote speaker at the Second Azerbaijani-American Scholarly Forum (AASF), organized by Azerbaijani-American Council at UC Berkeley. Addressing Azerbaijani-American youth for the first time, Dr. Zadeh shared experiences of his life-long pursuit of scientific innovation as well as his childhood memories of  Azerbaijan. Dr. Zadeh emphasized that even though he lived most of his life far away, he always felt proud of his Azerbaijani heritage. 
While Azerbaijanis around the world also revere Dr. Zadeh as one of their most prominent compatriots, his monumental contributions to science and engineering truly earned him a title of a World Citizen. And that's how Dr. Zadeh feels himself too. In a 1994 interview with "Azerbaijan International" magazine, he said: "the question really isn't whether I'm American, Russian, Iranian, Azerbaijani, or anything else. I've been shaped by all these people and cultures and I feel quite comfortable among all of them".
AAC and ASA join all Azerbaijani-Americans to greet Dr. Lotfi A. Zadeh on the occasion of his 90th birthday, and to wish him and his family health and success. On behalf of Azerbaijani-American community, in appreciation of the lifetime of his contributions to scientific innovation, the organizations plan to present the First Annual Azerbaijani-American Heritage Award to Dr. Lotfi A. Zadeh.
/Today.Az/