25-year-old visitor from Azerbaijan has been arrested on charged of murder in Russia, according to BaltInfo.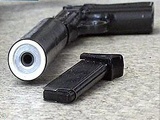 A loader, who is- 29-year-old citizen of Azerbaijan, was found with a gunshot wound in his head in an area of large vegetable warehouse in Moscow a couple of days ago. The man was hospitalized in a critical condition.
The police detained 25-year-old unemployed from Azerbaijan as a suspect later. Makarov pistol, as well as a large sum of money - almost 430,000 rubles were seized from him. Criminal case under article "attempted murder", "robbery" and "Illicit arms trafficking" has been filed.
Similar murders have been committed in this warehouse previously as well.
/Vesti.az/