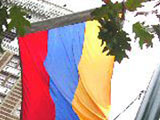 Two drunk Armenians staged a bloodshed in a bar "Coral" in Nikopol town in Dnipropetrovsk Oblast of Ukraine in the early morning on January 1 killing two local residents and stabbing two more. The criminal actions of the Armenians provoked outrage of local residents and the city barely managed to prevent the Armenian massacres. Head of the Azerbaijani diaspora in Dnipropetrovsk Gudrat Hajiyev spoke about the current situation in the oblast and whether there is a threat to Azerbaijanis residing there in an interview.
What is the attitude of local residents towards Azerbaijanis who reside in the area following the conflict between Ukrainians and Armenians in Nikopol?
Ukrainians' still have good attitude towards Azerbaijanis. I want to say that the city of Nikopol is about a hundred kilometers from Dnepropetrovsk. The population of the town is about 100 thousand people. At early morning on January 1 Armenians had a conflict there that killed two local residents.
And how can you describe the current situation in Nikopol?
It is rather tense. People are not happy with behavior of Armenians. They, of course, do not kick them out, but seem to be unhappy with Armenians' still living in the city. For example, someone in protest against the Armenian mayhem broke the monument dedicated "Armenian genocide", a symbol of the Armenian-Ukrainian friendship, erected on the crossroads of Gagarin and Kashtanov streets. But it is not in any way related to Azerbaijanis and representatives of other Caucasian peoples. Ukrainians and Armenians had another conflict in Dnepropetrovsk last summer. So, we can say that Armenians can not normally get along with other nations.
As far as the monument is concerned, why a monument to Azerbaijani-Ukrainian friendship has not been still erected in Dnepropetrovsk?
Actually, I do not know. But I hope there will be one in future.
Did the local administration call on leaders of the local diaspora organizations to hold "preventive" conversation following the recent conflict?
No, they have not done it yet most likely due to holidays. However, I do not exclude that such a conversation may well take place in the upcoming days.
How many Azerbaijanis reside in Dnepropetrovsk oblast?
About 7,000 Azerbaijanis live in the city itself. But there are more than 10,000 Azerbaijanis residing in the whole area. The Azerbaijani diaspora is the most active in the Dnepropetrovsk oblast. We are involved in public life of the region to a great degree. The mayor himself has publicly acknowledged it many times. Today, for example, we organized a charity event at the orphanage and presented gifts to orphan children. We have still more plans to implement in future.
/Vesti.az/