A fire occurred in Turkey-flagged cargo ship "Eren Turgut" in the English Channel on December 24.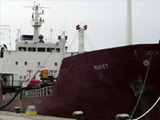 The officers of the Azerbaijani Embassy in the United Kingdom have not been able yet to visit the injured Azerbaijani seaman Suraddin Hamzayev who is hospitalized in "Queen Victoria" hospital, the embassy said.
The seman continues treatment under doctors' supervision.
"We constantly inquire about his health. We will visit our citizens as soon as doctors permit," a source in the embassy said.
"There is no threat to the injured seaman's life and doctors are doing their best for his recovery."
According to the UK Coast Guard, cargo ship lost speed and was forced to drop anchor as a result of emergency situation.
--------------
13:35
According to Turkish media, a citizen of Azerbaijan Suraddin Hamzayev was also among the injured crew members who were rescued by UK Royal Air Force and hospitalized. A total of 14 crew members were on board at a time of the incident. The ship was en route from Dakar to London.
/Vesti.az, 1news.az/