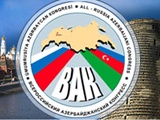 One of the mainstreams of activity of the All-Russia Azerbaijan Congress is education playing a key role for successful adaptation of migrants to new conditions, their quick integration into social and cultural space of host country, the city and region.
As it was stated by the first deputy of ARAC Executive Committee Ilgar Hajiyev, the Congress at the very first stages of founding, first of all, created the Committee on education, one of the main objectives of which is increase of mental potential of the Azerbaijan Diaspora at the expense of correct educational program.
"The main task is to help the Azerbaijani youth to be integrated into the cultural, political environment and not to lose value of mentality. To achieve this purpose, promoting is the School ¹157 with an ethno-cultural Azerbaijan component, and School ¹1331, successfully functioning in the city of Moscow. And today there is a real necessity for increase in number of such schools not only in Moscow, but also in other regions of Russia", Hajiyev said.
According to him, attraction of the Azerbaijani youth to study in high schools of Russia became a following stage of work of the Congress. In 2003, ARAC made an initiative supported by the leadership of Azerbaijan Republic, the country`s Ministry of Education, on annual coordinated number of places from the quota of the Ministry of Education of the Russian Federation for education in high schools of citizens of Azerbaijan living in Russia.
It was a question of those places from the general quota which haven`t been used in Azerbaijan. Since 2004 under the aegis of ARAC in Moscow the State Students Admission Commission of the Azerbaijan Republic conducts entrance examinations corresponding to these arrangements with the subsequent granting of nominees to the Ministry of Education of Russia. To those successfully passing test examinations, the Ministry of Education of Azerbaijan monthly allocates grants.
Active organizational work is carried out in close cooperation with Representation of Heydar Aliyev Foundation in the Russian Federation also by AMOR, headed by Leyla Aliyeva. Traditional has become the annual meeting of ARAC and AMOR with the newly arrived students. So, on October 16 current year, with participation of more than 700 students was held a meeting where announced was to needy students grants of President of ARAC, Representation of Heydar Aliyev Foundation in the Russian Federation, Aydin Gurbaniov Fund, and "LUKOIL" Charity Fund.
/AzerTAc/