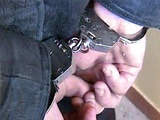 Customs officials at Vnukovo airport detained Iranian and Azerbaijani citizens, who attempted to smuggle $14,5 mln and ˆ 4 mln to Russia.
They brought money from Turkey. 4 passengers, who arrived with Istanbul-Moscow flight, were detained with $14,5 mln and ˆ 4,12 mln in 4 traveling bags and 4 suitcases.
Three of detainees are Azerbaijanis, and one from Iran. The criminal case has been launched on the fact, the investigation is underway.
/APA/