Opening of Azerbaijan's Honorary Consulate was celebrated in Santa Fe, the capital of New Mexico.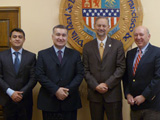 The event was organized in collaboration with Santa Fe Council on International Relations. Addressing the event George Friedman, chief executive of STRATFOR, a private global intelligence company, spoke about Azerbaijan's geostrategic importance in terms of the US' interests, the country's role in ensuring energy security of Europe, the pragmatic approach of the official Baku to the process of reinforcement of Azerbaijan's statehood. According to Friedman, independent development and sovereignty of the country are the priorities for Baku, this in its turn makes Azerbaijan along with Turkey a reliable regional partner.
Friedman expressed his regret that Washington does not pay enough attention to the region and underlined the importance of specifying the foreign policy of the US.
Azerbaijan's Consul General to Los Angeles Elin Suleymanov also addressed the official reception on the occasion of appointment of Emmit Richard "Art" McHaffie as Azerbaijan's honorary consul. Honorary Consul expressed his gratitude to the Azerbaijani leadership for the confidence and remembered the years spent in Azerbaijan.
Consul General Elin Suleymanov, Vice-Consul Ramil Gurbanov, Honorary Consul Emmit Richard "Art" McHaffie met with Governor of New Mexico Bill Richardson and Santa Fe Mayor David Coss. Expressing their gratitude to the Governor for his contributions to the development of Azerbaijan-US relations, the diplomats presented Bill Richardson the publication "Azerbaijan's wealth" covering the activity of the State Oil Fund of Azerbaijan.
Under the executive order issued by Azerbaijani President Ilham Aliyev on October 25, Emmit Richard "Art" McHaffie was appointed as Azerbaijan's Honorary Consul to Santa Fe.
/APA/