Police in Novqorod oblast of Russia have detained a man accused of killing foreign drug dealer.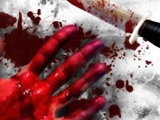 The motive for the killings was the fact that an accused person had a relative among clients of the drug dealer, according to RIA Novosti. Novgorod Oblast Investigation Department indicted 21-year old local resident Anatoly Fedorov. He is suspected of murdering 33-year old citizen of Azerbaijan.
"On December 11, a citizen of Azerbaijan was taken to Malovishersky hospital with stab wounds, where he died without regaining consciousness," says press release of the investigative agency.
According to investigators, Fedorov struck several blows with a knife to Azerbaijani man as his younger sister bought drugs from the foreigner. "Fedorov, who escaped from the scene, has been arrested," the investigative agency said.
The accused may face six to 15 years imprisonment.
/Vesti.az/