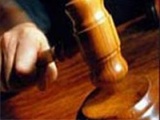 Today, Tumen Regional Court of Russia issued its verdict against 27-year old citizen of Azerbaijan Zulfugar Mammadov, who is accused of murder.
According to investigation, early in the morning on Sept. 21, 2009, Zulfugar Mammadov arrived in Tumen from Perm to help his 44-year old friend Elkhan Mammadov to clarify relations with compatriots. Earlier, Elkhan Mammadov had a dispute with Azer Gahramanov and his sons at the market, official website Prosecutor of the Tumen region of Russia reports.
On September 21, Mammadovs arrived at the warehouse located in the commercial base "Siberian Baraba" where Gakhramanovs worked and opened fire. As a result, two Gahramanov brothers - Jasarat and Sabuhi at the age of 25 and 20 years, were killed.
In addition, Elkhan Mammadov injured another brother of Gakhramanovs - 26-year-old Ramil and killed 24-year old loader from Tajikistan. After the murder, the men tried to flee the scene, but they failed. They were pursued by a guard base. Zulfugar Mammadov tried to shoot him, but the guard dodged in time. Police patrol arrived at the scene immediately after the incident. Mammadov was detained through joint efforts.
Elkhan Mammadov died while investigation was going on and criminal case against him was dismissed. Tumen Prosecutor's Office forwarded criminal case against Zulfugar Mammadov to the court for consideration.
Based on evidence submitted by the public prosecutor, court found Zulfugar Mammadov guilty of murder of two persons by a group of persons and illegal acquisition and carrying of firearms and sentenced him to 18 years imprisonment to be served in a penal colony.
/Vesti.az/