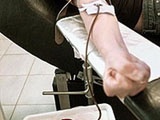 Azerbaijani activists of youth organizations have participated in blood donation campaign in Ivanovo city in Russia. About 4 litres of blood were donated as a result.
Experts of the committee on youth affairs of the city administration, representatives of the "Young Guard of United Russia" and the cultural and national autonomy of Azerbaijanis in Ivanovo took an active part in the event.
The donated blood will be sent for processing into blood components and drugs. Part of the blood will be sent for clinical use to municipal health agencies.
/Trend Life/