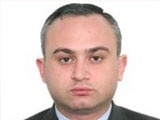 On December 2, Georgian Minister of Energy Alexander Khetaguri visited Marneuli that is densely populated by Azerbaijanis.
Minister concerned himself with the process of renewing electric meters in the region. He met with the local people and said energy will be saved as a result of the installation of new meters. Governor of Kvemo Kartli David Kirkitadze, Director General of Energo-pro-Georgia company Radoslav Dudolenski, head of Marneuli executive power Zaza Dekanoidze and other officials attended the meeting.
Khetaguri said Azerbaijan plays a great role in the development of Georgia's energy system.
"Azerbaijan is our strategic partner both in energy and other spheres. Azerbaijani companies are playing a great role in the development of Georgian economy. SOCAR is implementing large projects in our country. SOCAR is exporting Azerbaijan's oil products through Kulevi terminal. SOCAR Georgia Gas has privatized gas distribution networks in Georgia. 45 percent of Georgian people are supplied with natural gas through SOCAR-Georgia-Gas. At present the company is supplying the regions with gas. 75% of the Georgian people will be supplied with gas in three years. This is of great importance. This will ensure the economic growth of our country," he said.
Alexander Khetaguri underlined that he had an important meeting with SOCAR President last week concerning the delivery of Azerbaijan's natural gas.
"As is known, we held discussions within the framework of the AGRI project on delivering liquid gas from Kulevi terminal through Azerbaijan-Georgia gas pipeline to Constanta port of Romania via the Black Sea. We decided to extend this project and ensure delivery of Azerbaijani gas to the European market through this pipeline," he said.
/AzerTAc/