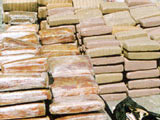 Officers of the Federal Agency for Drug Control of the Astrakhan oblast of Russia have seized a large shipment of hashish, which belonged to a native of Azerbaijan engaged in business in St. Petersburg, Interfax reports.
"In total, over 45 kg of hashish worth 50 million rubles have been seized," the federal agency said.
"Hashish was transported by sea from Iran to Azerbaijan and then to Astrakhan. It was planned to transport the goods onwards to St. Petersburg by road," the agency added.
/Vesti.az/