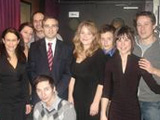 Performance about the Azerbaijani refugees and internally displaced persons "Gulnara's dress" (La robe de Gulnara) whose author is Canadian Isabelle Hubert was showed in Montreal, Azerbaijani Embassy in Canada said.
Before the show the Azerbaijani Ambassador Farid Shafiyev adressed the audience and thanked the author of the performance and those who put it on. He noted the importance of the play for drawing attention to the state of refugees and IDPs in the world and Azerbaijan.
Shafiyev noted that the Embassy is ready to contribute to the development of cultural relations between Azerbaijan and Canada. At the end of the play the audience went for the standing ovation. Following the show the embassy hosted an official dinner.
"Gulnara's dress" will be showed in Montreal until December 11. In September-December 2011 the performance is scheduled to be staged in Quebec and other provinces of Canada.
/Trend/