Interview with Director General of Azerbaijani-American Council Javid Huseynov.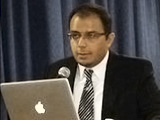 Leader of Karabakh separatists Bako Sahakyan recently visited the United States to take part in preparations for another charity telethon in Los Angeles aimed at "restoration and development" of Nagorno Karabakh. How do you assess separatist regime leader's visit to the United States, a country which co-chairs OSCE Minsk Group mediating in resolution to the Armenia-Azerbaijan Nagorno-Karabakh conflict?
This is not Sahakyan's first visit to California. The Armenian National Committee of America (ANCA) annually invites the so-called "NKR president" for the Armenian telethon on Thanksgiving Day and collecting tens of millions of dollars for the separatist regime in the occupied territories of Azerbaijan. As interesting as it may seem, this time the event was sponsored also by Consulate General of Armenia in Los Angeles. Participation of accredited Armenian diplomats together with ANCA in Sahakian's advertising in the United States raises questions about Armenia's position in negotiations on Karabakh. This, of course, is not very positive thing that so-called "NKR president" freely visits one of the OSCE Minsk Group co-chair countries. Moreover, he uses passport of the Republic of Armenia to get a visa to the U.S., and once he enters the country, he says to American taxpayers that he is "president" of a nonexistent state. But the U.S. is not only co-chair country that Bako Sahakyan has visited. In the U.S., he also introduces himself as "Major-General" with the highest military awards from Russia, the other co-chair of the OSCE Minsk Group.
What makes U.S. Armenians over and over transfer money for "development of Nagorno-Karabakh", an entity recognized by no one?
It is the same idea, according to which Armenians call Eastern Anatolia Western Armenia and Javakhetiya, Karabakh, Nakhchivan and even Tabriz - "native" Armenian lands. This is an idea of irredentism and territorial expansion aimed to create mono-ethnic "greater Armenia" in the lands of neighboring countries. With the ongoing 18 years of occupation of Azerbaijan's lands, appetite and confidence of Armenian irredentism have grown even more. This is the reason for the large transfer of funds.
As far as I know, you asked "NKR president" several questions…
Even before the November 19 event in Pacific Club, as an organization with headquarters in Orange County, the Azerbaijani-American Council appealed to the WAC-OC to cancel Sahakyan's show. Letters with the same requirement also came from and USAN, other Azerbaijani organizations and other individuals in the U.S. Unfortunately, WAC-OC did not heed our appeals, claiming that the organization seeks to reflect the different points of view. So, the local Azerbaijani community found it necessary to picket the event. For this purpose, representatives of local Azerbaijani and Turkish communities in Orange County gathered and took part in the action. In addition to picket outside Pacific Club, where Sahakyan delivered a speech, Azerbaijani and Turkish activists took part in the presentation itself.
AAC prepared four questions for Sahakyan, only two of which was asked. The first question was about the Azerbaijani community of Nagorno-Karabakh and it read that how Sahakyan can represent Nagorno-Karabakh while a third of its total population - ethnic Azerbaijanis - have been victims of cleansing and are now displaced in rest of Azerbaijan...
Sahakyan, a little embarrassed by this question in the presence of an American audience, said he was willing to discuss issue of Azerbaijani community of Nagorno Karabakh if Azerbaijan accepts "NKR" as a party to the conflict. Doing so he bypassed the known "rules of Baker", which formed the basis of the OSCE Minsk process since 1992 and recognize Azerbaijan and Armenia as basic parties and Armenian and Azerbaijani communities of Karabakh - as interested parties to the conflict.
Our second question was about the Khojaly genocide. In particular, we asked him to interpret the famous remarks by Serzh Sargsyan (quoted from the book by Thomas de Waal) that in Khojaly Armenians shattered the Azerbaijani stereotype that it is impossible to raise hand against civilian population. Even more embarrassed at this question, Sahakyan said there is no need to quote the words of officials and it is better to know "essence of the problem", which allegedly consists of the fact that Azerbaijan has falsified history with regard to Khojaly to oppose the so-called "Armenian genocide".
Not explaining why Serzh Sargsyan uttered such a word quoted in Waal's book, the separatist noted that Armenian president is a far-sighted politician, who wants peace in Caucasus. For information, AAC has posted the video of Sahakyan's response on internet. In general, participation of Turkish and Azerbaijani activists and their civil behavior produced a positive effect on WAC-OC representatives who thanked our activists for tolerance. It is also important that Sahakyan was afraid to meet Azerbaijani protesters, using a spare entrance to come to the event and leave it.
/Day.Az/