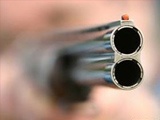 Unidentified persons opened fire at a "Mercedes" car, on Bolshoy Tulski street, Moscow. The incident happened at 20.30 on November 25.
The driver of Mercedes was wounded. He was taken to the resuscitation department of the institute named after Sklifosovski, he is in critical condition.
The wounded person is an Azerbaijani aged 45. He lives in Moscow. He has a car showroom in Moscow. The person, who was in the car at that time, was not wounded. Witnesses say the driver lost the control of the car and it collided with other cars.
Traffic police is investigating the incident. "Entrampment" plan has been announced in the capital. Witnesses described the car of the attackers to the law-enforcement bodies.
/APA/