Congress of Azerbaijanis in Sweden sent a letter of protest to UNESCO Secretary General Irina Bokova.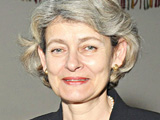 "Having seen the 'Armenian cross-stones' file on your website we cannot but express our feelings of bitterness and profound regret that the question is to be discussed at the organization's 5th session in Kenya from 15 to 19 November 2010. As an entity in Sweden that unites in its ranks many ethnic Azerbaijanis from all walks of life we think it vital to draw your attention to the forged nature of the Armenian document. Authors of the 'Armenian cross-stones' file make a deliberately false recourse to the symbols of ancient Azerbaijani crosses that go back to the period of Caucasian Albania. It can only be construed as a false attribution of purely Azerbaijani historical monuments to Armenia thus depriving our people from a significant part of our cultural and historical heritage", said the Congress in its letter.
"It is particularly frustrating that the file claims that 'in the course of Armenia's tumultuous history, the khachkars have passed through different periods – from thriving to suppression (during various invasions), oblivion (Soviet atheism), or even destruction (aftermath of military conflict)'. In that respect we firmly believe that all references to the Armenian-Azerbaijani conflict over Nagorno-Karabakh run counter UNESCO's declared aims. It is noteworthy that placing Nagorno-Karabakh - an integral part of the Republic of Azerbaijan – amongst sovereign states of the world bluntly violates all known norms of International Law. It is a well-known fact that as much as one fifth of Azerbaijan's territory, unfortunately still under the Armenian occupation, incurred the horror of barbaric destruction of all Azerbaijani historical monuments. Ancient Azerbaijani cross-carved-stones from the period of Caucasian Albania have been either demolished or forged. We believe that the forged file could lead to a surge of hatred and animosity among the peoples of the region, as well as to dangerous implications for the inter-ethnic dialogue and cooperation".
In the end of the letter, the Congress writes: "As a corollary, we herewith express our most respectful and insistent request that you spare no efforts to stop the nomination of the 'Armenian cross-stones' file at the meeting to be held between 15 and 19 November 2010. It is also our sincere hope that should any matter that runs counter Azerbaijan arise in your organization, you will prevent its further development".
/APA/