An exhibition of works by Hungarian artist Szabó Barnabás was organized at the Exhibition Hall of the Azerbaijani Embassy in Hungary on Oct. 27.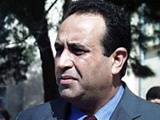 The exhibition was organized with the support of the Embassy and Anna Szaloki gallery, the Azerbaijani embassy in Hungary told Trend. Ambassador Vilayat Guliyev said that organizing such exhibitions is an important feature for promoting the culture of both peoples. The ambassador noted the need for such exhibitions in the future.
The painter thanked the embassy for its support in holding the exhibition. He briefly talked about his creative work.  Hungarian famous concert pianist performed at the event. During the concert the works by Mozart, Liszt, Chopin were performed. The representatives of the Hungarian public and the diplomatic corps, members of the Azerbaijani diaspora, including Azerbaijani students studying in Hungary attended the event.
/Trend/