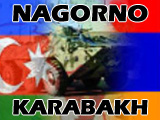 Another proxy battle between Azerbaijanis and Armenians is playing out in the US as the Azerbaijani Diaspora community tries to put the kibosh on Public Broadcasting Service (PBS) plans to air an Armenian-made documentary on the Nagorno-Karabakh conflict, Eurasianet.org reported.
In an October 20 letter to the network's management and ombudsman, two American-Azerbaijani groups charged that the film, "A Story of People in War and Peace" by Armenian journalist Vardan Hovhanisyan, offers a slanted take on the 1988-1994 Azerbaijani-Armenian war over Karabakh.
"This documentary about the Armenian-Azerbaijani conflict … would present a rather perverted interpretation of controversial history to the PBS viewers," wrote the Azerbaijani-American Council and Azerbaijan Society of America.  
The film tells the post-conflict story of Karabakh via the retrospective of Hovhanisyan's own experiences as a war reporter and prisoner. The Azerbaijani Diaspora groups claim the film ignores the plight of ethnic Azeri victims of the conflict and is meant to sway public opinion in the US. "As PBS is a publically [sic] funded service based on taxpayer contributions, we appeal for your common sense to cancel the broadcast of this documentary," the letter reads.
"A Story of War and Peace" is scheduled for distribution October 24, 2010 on the ITVS Global Voices series on the WORLD Channel, which is currently managed by WGBH Boston.
According to a film's director, Vardan Hovhannisyan: "I made this film trying to tell the story of a couple of people I knew some years ago. I was a journalist in the Karabagh war and met many soldiers. These soldiers were Armenian, I am Armenian also. I wanted to make a film about how these people had dealt with the war. Personally I was not concerned to get involved in the politics of this war; it was a terrible time for all involved, and resulted in many deaths and victims on each side. Countless Azeri and Armenian people were displaced by this conflict which is a great tragedy for the region. I am well aware that the topic is a sensitive one, but my aim was to avoid the politics associated with this conflict by telling a story. I have tried not to push a political agenda in the film, only a personal one; about the lives of some people I knew when I was a journalist. My aim has never been to provide a biased picture of the conflict, only an account of some people involved, as I am well aware of the trauma created by this war."
/Eurasianet.org/