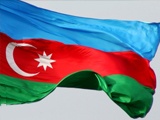 The Congress of Azerbaijanis in Georgia (CAG) has organized a roundtable in honor of the 19th anniversary of Azerbaijan's independence, the CAG press service reported. Roundtable was held at the office of CAG, it was attended by the Azerbaijani students from various universities in Georgia. The event began with the national anthem of the Azerbaijan Republic.
The event was addressed by the chairman of the CAG Ali Babayev, saying that the Congress has always marked public holidays of Azerbaijan. He told the students about the history of the Independence Day.
"Azerbaijanis in Georgia should be familiar with the story of their historic homeland. Azerbaijani people know the value of independence, which was achieved with the great difficulty. The relationship between independent Azerbaijan and Georgia are at a high level," Babayev said.
According to him, the Azerbaijani youth in Georgia should contribute to the expansion of friendly ties between the two countries. "As the National Leader of Azerbaijan Heydar Aliyev said Azerbaijan's independence is eternal, irreversible. Independent Azerbaijan is in good hands of Heydar Aliyev's worthy successor Ilham Aliyev," said the CAG chairman.
At the end of the event, participants watched the documentary "My country Azerbaijan".
The Constitutional Act on State Independence of the Republic of Azerbaijan was adopted unanimously at the session of the Supreme Soviet of the Azerbaijan Republic on Oct. 18, 1991.
On December 29 of the same year, a referendum was held in the Republic of Azerbaijan. The people of Azerbaijan voted unanimously for national independence.
/Trend/