California State University- Long Beach hosted a workshop dedicated to Azerbaijan.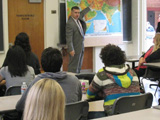 Speaking to university students, Consul General of Azerbaijan in Los Angeles Elin Suleymanov spoke about country's foreign policy and history of the South Caucasus. He highlighted the centuries-old traditions of tolerance in Azerbaijani society and a pragmatic foreign policy of the country.
Azerbaijani diplomat also emphasized Azerbaijan's strategic position in a key geographical region of Eurasia. Geographical position at the crossroads of civilizations and political systems is an opportunity for Azerbaijan to play a positive role in intercultural dialogue and global integration processes, Suleymanov said.
Suleymanov stressed long-term approach of the Azerbaijani leadership towards regional integration and establishing mutually beneficial partnerships. In this regard, the consul general noted with regret that Armenia's non-constructive and irresponsible policies continues to have a negative impact on the entire region and deprives Armenia of a possibility of a full-fledged development.
The workshop also featured discussions with faculty and students of the university.
/Today.Az/