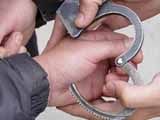 Prosecutor's Office of Russia's Tumen region has sent a criminal case to the court, against 26-year-old citizen of Azerbaijan Zulfugar Mammadov, who is being accused of killing two people and an attempted murder of a person who performs a public duty and unlawful purchase and possession of firearms.
The investigation has established that on Sept. 21, 2009 Mammadov arrived in Tumen from of Perm at the request of his friend, who explained that he had a conflict with fellow countrymen, and needed help to solve it. Before meeting with opponents Mammadov's friend gave him a gun. They drove to the trade base "Siberian Barabinskaya", where Mammadov killed two citizens of Azerbaijan in a room of one of the warehouses.
After the murder, the attackers attempted to escape from the crime scene. The security guard was on the chase, Mammadov attempted to shoot the guard, but missed. Security employee called up the police. Mammadov was arrested and detained on the same day. The criminal case against the second accomplice to the crime was terminated due to his death. Zulfugar Mammadov is charged with murder of two persons by a group of persons, attempt to murder a person in connection with the performance of public duty and illegal purchase and possession of firearms.
/Vesti.az/