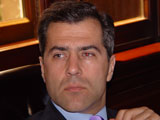 In the second half of 2010 Germany will host Azerbaijani Youth Forum, Chairman of the State Committee for Work with Diaspora of Azerbaijan Nazim Ibrahimov told journalist today.
"Diaspora organizations will involve the Azerbaijani young people residing in Europe in the Forum", Ibrahimov said.
According to him, the forum will discuss strengthening the role of youth in the expansion of the activity of the Azerbaijani Diaspora organizations.
"The process of the organization of the Azerbaijani Diaspora has been already completed and now we face the task of forming the Diaspora's activity in academic form. The Azerbaijani youth in foreign countries should take an active part in this activity," he said.
/Trend/