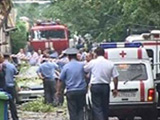 Garib Hasanov, an Azerbaijani man injured during the terrorist attack in Pyatigorsk, lost his sight, but doctors hope that one of his eyes can be saved after the surgery, his brother Emin Hasanov said.
"Garib can walk and speak, but he lost his sight. The doctors couldn't save his eye, but doctors in Moscow try to save another eye. They said everything would be OK, but he needs in surgery and they are specifying the time of operation now".
Emin Hasanov said he was living in Pyatigorsk together with his brother. "I have been living in Pyatigorsk for five years, but Garib came here two years ago. He is studying at the vocational school. I was not there during the explosion, but my brother told me what happened there. Garib was working in that café. VAZ-2106 was parked before the café. It was detonated in the evening and the explosion damaged the café as well. Garib said that after the explosion he seized his blooded head with both hands. He lost his eye. Garib was hospitalized and doctors were forced to remove his wounded eye through surgery. He can not open the second eye".
/APA/