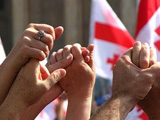 Azerbaijanis in Georgia are concerned over the interview with adviser to President Mikhail Saakashvili, an ethnic Armenian Van Bayburt published in "Akhali Taoba" newspaper on Aug. 12. According to the Congress of Azerbaijanis in Georgia, Bayburt said in his interview that there is separatism in Kvemo-Kartli (Borchali) region mainly populated by Azerbaijanis. A number of public organizations founded by Azerbaijanis have appealed to Saakashvili with a request of to dismiss Bayburt.  
"In an interview with August 12, 2010 issue of "Akhal Taoba" newspaper, your adviser on national minorities Bayburt almost started a campaign against Azerbaijanis and voiced thoughts that call people for a confrontation on a national basis. We believe that statement claiming that there is separatism in Kvemo Kartli is unfounded and a provocation. Such a statement made by a government official of Georgia is misleading and unacceptable. Van Bayburt is an advisor to the President of Georgia, so people take his words as the position of the president. Azerbaijani citizens of Georgia are very concerned about this," the appeal says.
Authors of the appeal noted that the Azerbaijani people have never been supporter of secession, have always supported and will support the territorial integrity of Georgia.
"People of Georgia have witnessed this. In hard days local Azerbaijanis supported their country - Georgia. If you recall the August 2008 events, you can clearly see how territorial integrity of Georgia is important for Azerbaijanis."
The authors believe that those wishing to instigate a national conflict should be kept away from the Georgian government.
"We ask that you dismiss the man who has lost public trust committing acts that cause damage to Georgia's political interests," the appeal says.
/ANS PRESS/