Interview with Director General of Azerbaijani-American Council Javid Huseynov.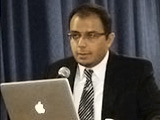 How does delayed nomination of U.S. ambassador to Azerbaijan influence Azerbaijan-U.S. relations?
Of course, absence of U.S. ambassador to Azerbaijan for more than a year can not be a positive step in bilateral relations. Although, I think that Washington should be more worried about this than Azerbaijan.
In your opinion, how big are the chances that Matthew Bryza will be appointed U.S. ambassador to Azerbaijan?
I do not want to speculate about Bryza's chances to become ambassador to Azerbaijan in advance, because I do not consider this a significant issue from Azerbaijan's viewpoint. U.S. policy towards Azerbaijan is built in Washington, but not in the U.S. Embassy in Baku. Certainly, Mr. Bryza is better acquainted with Azerbaijan, with the Caucasian and Caspian regions, and therefore, he is a perfect candidate in terms of success of American foreign policy. Not Baku, but Washington needs to think about it. Well, if not Bryza, different person will be an ambassador. In a run up to November elections, people acting in accordance with interests of the Armenian lobby like Senators Boxer and Menendez need votes and money more than the U.S. foreign policy.  By the way, Senator Barbara Boxer of California may well lose to Republican Carly Fiorina in November, so the Armenian vote and money is more important for her than even the success of U.S. military operations in Afghanistan. It is possible that Bryza's nomination will be approved in November, when the need for the Armenian votes and money will exhaust.
How can you explain the fact that the Armenian lobby in the U.S. so strongly opposes Bryza's nomination as U.S. ambassador to Azerbaijan? How far is intervention of the Armenian lobby in matters concerning solely the United States and Azerbaijan correct?
You know, Voltaire once said remarkable words: "The triumph of reason is to get along with people deprived of reason." The absence of reason is hard to explain. Even the great Voltaire did not dare to do it, but only offered to get on with them. As is known, back in 2006, the then U.S. Ambassador to Armenia John Evans was careless enough to use the word "genocide" while referring to the historical events that happened in Eastern Anatolia during the First World War.
The U.S. administration immediately recalled Mr. Evans, despite the hysterics of the Armenian lobby, and punished him for this, to put it mildly, carelessness. After that there was a long parade of the Armenian lobby in Congress in hopes of finding a candidate for a post of ambassador to Armenia, who would repeat the same folly. Hoagland's candidacy failed and Marie Jovanovich became the ambassador, who also did not seem to recognize the "genocide". So, no need to look for long-term logic in the actions of the Armenian lobby.
In this case, the Armenian side is simply trying to symbolically show that it can influence the appointment of U.S. ambassador to Azerbaijan. So what? Whoever the ambassador is, he/she will pursue U.S. policy, fixed by the Administration and the State Department, which recognize neither so-called "genocide" of Armenians, nor the so-called "NKR".
So, the Armenian National Committee of America (ANCA), I mean the American branch of the Armenian Revolutionary Federation (ARF), may continue to be satisfied with symbolic brainwashing of American Armenians and enjoy a Pyrrhic victory. While Azerbaijan and Turkey continue to develop and strengthen, Armenia continues to slide down below, proving to be ineffective as an independent state. This is triumph of our reason over the lack of this in the actions of the Armenian lobby.
It would be more appropriate for the Armenian lobby to combine its efforts to invest in Armenia, the most backward country in South Caucasus, wouldn't it?
Why? Does someone from wealthy Armenians of Glendale, the fans and sponsors of ANCA plan to go back to Armenia and live there? I am sure that even if Armenia becomes "great", they will not. They are well aware that in reality the Armenian statehood can never satisfy the eternal striving of the world Armenians for greatness. They need prosperity in the diaspora more than prosperity in Armenia.
Can we assume that the campaign conducted by Armenian lobby against Matthew Bryza is another "appropriation of funds" collected from the rank and file members of the Armenian diaspora around the world?
Exactly. ANCA periodically sends letters to local Armenians with a request of financial support and promises that "genocide" is about to be recognized soon. This is pure business. Advocacy of Turkophobia and intolerance, historical revisionism and parasitism in international relations is output with the Armenian lobby being the best seller.
How will Armenian lobby justify its failure in case Bryza is appointed U.S. ambassador to Azerbaijan?
Well, first of all, it will complain to its members about lack of funds. It's like a case in a well-known Azerbaijani musical comedy "If Not That One, Then This One" when all the toadies gather around Meshedi Ibad willing to "fine" Rustam bey certain amount. The existence of "Armenian problem" is a source of income for the Armenian diaspora and lobby. And who will pay, if Armenia has good relations with Azerbaijan and Turkey? Nobody, of course. Accordingly, to ensure its own prosperity, the Armenian diaspora will continue to rob the future of Armenia. I hope that Armenia has sufficient number of pragmatic-minded people who will realize it sooner or later.
/Day.Az/