A meeting was held with Sabina Huseinli, scriptwriters of "Hesitation" film in the Coordination Center of Azerbaijanis in Germany (CCAG) on June 15.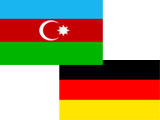 Opening the meeting, CCAG Executive Director Samira Patzer-Ismayilova, congratulated compatriots on June 15 – National Salvation Day and briefed guests about the history of this day.
The film "Hestitation" was demonstrated later.
This film was demonstrated at the Fourth International Short Films Festival in Detmold, Germany. The film has been directed by Gunel Najafzade. Scriptwriter is Sabina Huseinli. Both of them are students of International Film School corrdinated by famous Azerbaijani scriptwriter Rustam Ibrahimbayov.
The film has been shot with the support of the U.S. embassy in Azerbaijan and Rustam Ibrahimbayov's International Film School.
/Today.Az/