Silk Way Azerbaijan festival will be held in Houston next year, according to Irada Akhundva, president of the Houston-Baku Sister Cities Association.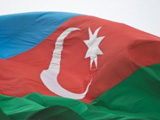 According to her, the event will be held within the framework of the annual festival held in Houston.
"An international festival is held in Houston every year. Within the framework of this festival we are going to implement the event we plan in 2010", Akhundova said.
"The due events have already been coordinated with the city mayor's administration of Houston and the due structures of Azerbaijan. An Azerbaijani delegation will leave for Houston to attend the festival. There is a plan to organize an exhibition related to Azerbaijan and demonstrate Azerbaijani operate at one of the art centers of the city", Akhundova pointed out.
/1news.az/