Days of Azerbaijani Culture were held in Astrakhan, Russia on May 28 to mark 92ng anniversary of the Azerbaijan Democratic Republic.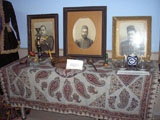 The exhibition "History of Azerbaijani diaspora in Astarkhan" was organized as part of event.
Chairman of the Astrakhan branch of All-Russian Azerbaijani Congress Adalat Huseynov, Deputy Culture Minister of the Astrakhan region Olga Prokofieva, Deputy Minister of International and External Economic Relations of the Astrakhan region Alexei Aydin, member of the All-Russian Azerbaijani Congress Rafik Hasanov greeted the event participants.
The event also featured a presentation on cultural ties between Azerbaijan and Astrakhan. Picture of a pharmacist of the Azerbaijani-Persian origin, who settled in Astrakhan 200 years ago, was exhibited here for the first time. Azerbaijani women's national costume of the late 19th century was also displayed. The guests also had the pleasure of tasting national Azerbaijani cuisine.
The event was organized by senior fellow at the Astrakhan State United Historical and Architectural Museum-Reserve of the Ministry of Culture of the Astrakhan region, a member of the Union of Journalists of the Russian Federation Mirmahmud Tagiev under the cultural cooperation between the Astrakhan region with the Caspian littoral states.
/Day.Az/
Click to enlarge: