Union of Azerbaijani Youth of Georgia held an event devoted to the Independence Day of Georgia and Azerbaijan.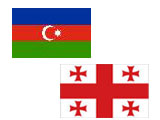 The event was attended by representatives of NGOs working with youth, students and pupils of high classes from various regions of Georgia.
Chairman of the Union of Azerbaijani Youth of Georgia Leila Mammadova remembered that the independence of the two neighboring republics was declared in Tbilisi, member of the Union Nargiz Aliyeva said.
Mammadova stressed that the Azerbaijani youth, living in Georgia, wants to see this country free and independent. Georgia and Azerbaijan linked with the historical friendship, passed a similar path to independence, said President of the Association of Scientific Researches Etiram Amirkhanli said.
"After the dissolution of Transcaucasian Seim, which existed for a certain period, Georgian Parliament representatives and members of the Muslim fractions participating in the Seim added acts on independence to the history," Amirkhanli said.
In his speech, chief editor of the "Ziya" newspaper Nizami Mammadzade said that the history of the two countries should be propagandized among young people. Each representative of the Azerbaijani youth living in Georgia, by studying the history of Azerbaijan and Georgia, should pass it to future generations.
/
Trend
/