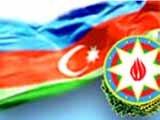 According to Azerbaijani General Council in L.A., Elin Suleymanov, the governors of several U.S. states sent their congratulations on the Republic Day of Azerbaijan. In particular, U.S. politicians pointed out the historic importance of of the first democratic republic in the Muslim world in 1918 in Azerbaijan.
The following governors sent their congratulations:
Governor of Alaska - Sean Parnell
Governor of Arizona - Jan Brewer
Governor of Washington - Christian Gregoire
Governor of Colorado - Bill Ritter
Governor of Montana - Brian Schweitzer
Governor of Nevada - Jim Gibbons
Governor of Utah - Gary R. Herbert
The above U.S. states are included in the consular district of the Consulate of Azerbaijan in Los Angeles.
/Today.Az/