In Dubai, the local society "Azerbaijan" held a gala evening dedicated to the forthcoming Day of the Republic on May 28.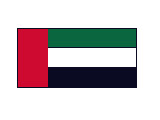 According to the press service of the State Committee of Azerbaijan to work with the Diaspora, the evening was attended by representatives of local Turkish and Azerbaijani organizations and diaspora organizations from other Arab countries and Europe. Chairman of the society Samir Imanov spoke about the history of Republic Day, stressing that the Azerbaijani Democratic Republic was the first democratic, legal and secular state in the East.
He then outlined the merits of national leader Heydar Aliyev in the restoration and strengthening of Azerbaijani statehood at the end of the last century, and noted that Azerbaijan has great prestige in the international arena, and the only constraint on the development of the country is the occupation of 20% of Azerbaijani territory.
He said that the OSCE Minsk Group has not taken sufficient measures for a fairv settlement of the conflict. Speakers also called for the fast settlement of the Armenian-Azerbaijani conflict, condemned the recent show with the "elections" in the occupied territories of Azerbaijan.
Participants then watched by the National Committee for Work with Diaspora documentary "We are Azerbaijanis". Participants were given the books "Answers to 100 Questions on Azerbaijan", books, pamphlets and DVDs in several languages about Azerbaijan and the Nagorno-Karabakh conflict.
President of the Society "Azerbaijan" was congratulated by the First Deputy Parliament Speaker UAE Ahmah Sabib Al Zahir.
/Vesti.Az/