A football team of Georgia's Azerbaijani youth 'Garayazi' defeated Armenian team scoring 3:0 and gained Caucasus Cup-2010 on May 23.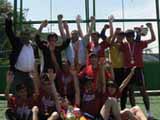 A team of Azerbaijani youth outplayed the Abkhazian youth scoring 6:4 within the tournament. They also defeated Georgian youth scoring 11:1 in the second match. A draw on mini-football for Caucasus Cup-2010 was held among youth in Tbilisi May 21-23. The tournament was organized by the International Union of Young Caucasians under patronage of mayor's office and Georgia's Department of Sport and Youth.
Over 12 teams representing Georgia's national minorities participated in the first draw on mini-football for Caucasus Cup among youth. Azerbaijani team was formed on the initiative and support of Georgia's Congress of Azerbaijanis.
/
Trend
/