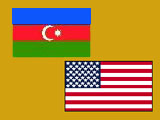 On May 28th, the day when the Azerbaijan Democratic Republic was founded, American Azerbaijanis are going to celebrate the Republic Day of Azerbaijan, US Azeri Network (USAN) said.
Azerbaijani Diaspora organizations are going to hold massive celebrations all around US. In advance Azerbaijanis are distributing letters and historical statements to state, federal and county officials, as well as booklets and brochures about the history of the founding and the existence of ADR, its main priorities and plans. In Washington DC, New-York, Los-Angeles and Houston Azerbaijanis are planning to held massive action. A number of information lectures on ADR are planned at various universities. The news media and libraries will also receive an information letter about ADR.
"ADR became the first secular Muslim parliamentary democratic republic in the history of the world. ADR had universal suffrage, equal rights and representation for all people, regardless of race, ethnicity, gender, creed, or political beliefs. All ethnic and religious groups had sizeable representation in the national Parliament - the most important branch of power", says the official USAN letter.
"ADR is something we – all Azerbaijanis – are proud of. One may think this was just a two year long republic. But for us it's more – for us it's dignity and pride", said Samir Amirov, a member of Azerbaijani Diaspora.
/
APA
/