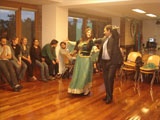 Various activities dedicated to Azerbaijan were organized in higher educational institutions of foreign countries, where Azerbaijani students receive education as part of the SOCAR scholarship program, help to raise awareness about Azerbaijan, State Oil Company of Azerbaijan Republic (SOCAR) said in a statement.
This question is constantly in the spotlight of SOCAR. The company has prepared all necessary promotion materials including books, brochures, CDs, posters and flags and sent to all fellows abroad.
Another event was held at the Bologna Center of John Hopkins University, the United States on May 7. The event was dedicated to the 87th anniversary of Heydar Aliyev's birthday. "Day of Azerbaijan" was initiated by first Azerbaijani studying in this university Leyla Mammadli.
The presentation held in the Bologna Centre of the university located in the Italian city was attended by the rector of the center Dr.Keller, faculty and academic staff, about 90 students representing 60 countries, members of the Azerbaijani embassy in Italy, personal training specialists of the SOCAR head office in Baku.
Leila Mammadli, student of the University, who receives a degree in international relations and international economics with the help of the SOCAR scholarship, made a presentation. She spoke about the history, culture, economy, nation-building in Azerbaijan, country's position in the international arena and its foreign policy, Armenia's aggression against Azerbaijan and Nagorno-Karabakh conflict, the energy policies of the country and activities of SOCAR.
Mammadli also performed Azerbaijani dances, wearing a national costume. During the refreshments, participants were invited to taste tea with national Azerbaijani sweets. The participants were handing out souvenirs with symbols of Azerbaijan and SOCAR.
"Day of Azerbaijan" aroused great interest in the university audience. Students studying here also got interested in job opportunities in SOCAR.
/Day.Az/
Click to enlarge: