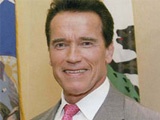 Governor of California Arnold Schwarzenegger received the representatives of Azerbaijani General Council in U.S. According to the message of the Council, Schwarzenegger was presented a gift - an Azerbaijani carpet with Governor's face on it. The carpet was hand-made by Mushvig Babayev, specially for Schwarzenegger.
During the meeting, Azerbaijani General Council Elin Suleymanov along with council Elman Abdullayev expressed their gratitude to the Governor, for the annual congratulations on the day of Azerbaijani republic.
Schwarzenegger, in his turn praised Azerbaijan's contribution to intercultural dialogue and expressed hope, that Washington will be building long-term relations with Azerbaijan, in a strategic way.
/Day.Az/
Click photos to enlarge: